The Best Barber Capes, Made in the U.S.A.
For all you barbers out there, we make fabulous high-quality, durable barber capes and jackets and can help you design them just for you!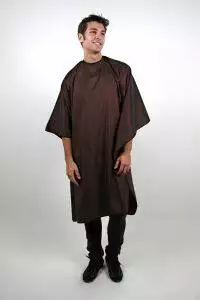 See all of our barber capes here.
Our most popular barber cape style #710 is over sized and will really protect your clients clothing. It is water repellent, bleach and color proof too!
It features rust proof adjustable snaps at the neckline and measures a full 58″ wide by 60 " long. Additionally, we have a cape with armhole openings that works great on clients that cannot stay off their phones or tablets. Need a longer cape? We can make them for you so your clients shoes are covered!
It is our Style #980 and is just like the Style #710 but has two covered openings so the clients can slide their arms out and use their cell phones or tablets. We also have several barber jackets for you to choose from.
Don't forget! Add your logo to the front or back to promote your brand.