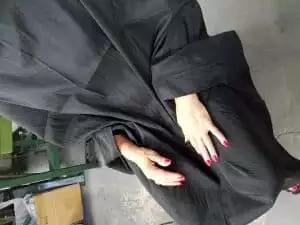 So you're looking for either new chemical capes or hair cutting capes for your hair salon or barber shop, and of course, you're scouring the Internet and found this article.  Well, thanks for clicking, because we're going to hook you up!
To replace those old, worn, tired hair cutting or chemical capes you have now, make sure to fully understand not only your needs, but your customer's comfort and protection as well.  With so many choices available, deciding which capes are best for your business can be daunting.
Hair salon capes do come in a wide range of sizes, shapes, material types, and a multitude of styles and patterns. If you are just starting out in the hair business, or maybe you just want to replace your existing hair capes, we have got you covered with the different types of hair salon capes and how you can choose the right one.
Hair Salons
According to Dun & Bradstreet's Hair Care Services Industry Report in 2019, the hair care industry includes more than 80,000 establishments.  As long as having hair remains in style, there's certainly no end in sight for the demise of hair salons and barber shops any time soon.  There is also a large swing of salons opening and going out of business all within a one year period too.  But history aside, all profitable hair salons and barber shops have one thing in common – they have a following.
Business 101: employ friendly, experience employees and provide the highest quality products and services.  Your prices should be competitive, but they can also be justifiably higher when your business is in high demand. 
What does this have to do with salon capes you ask?  It has to do with reminding ourselves about shopping for QUALITY salon cutting capes or chemical capes because they are a reflection of your business model.  Buy cheap, get cheap, show cheap.
Hair Salon Capes
Make sure your hairdressing capes aren't just for its obvious purpose, but also for comfort and style.  They should also be simple and quick to apply on your client, and of course, hygienic.
Cape Fabrics
When choosing cutting or chemical capes, take a hard look at the fabric. There are woven capes with a fabric blend, like polyester with microfiber, and also solid fabric materials such as nylon.  But not all capes are suitable for both cutting and chemicals!
For chemical capes, look for fabric with Teflon coating to resist strong solutions stemming from hair color, perm solutions, and bleach.  These cape types will often be anti static, water-repellent, bleach and color proof in dark colors, and will stand up to harsh chemicals for years of wear.
Capes with waterproof polyurethane coating have the strongest chemical proofing. They also offer the highest level of protection and durability. Remember still to keep comfort in mind when you decide on a fabric blend for your hair cutting cape.
Also, take note of how easy it is to maintain a cape made from a certain fabric. High-maintenance fabrics can cost you more time, energy, and money. However, don't choose fabrics that are cheap either.
Other things you need to consider when choosing the right hair salon cape is the material, how much it weighs, and how it is fastened.  Polyester capes are very durable, light weight and often have several types of fit and styles to choose from.
Hair Salon and Barber Capes Examples
For a better understanding of the different capes available, we have provided a comparison of 4 hairdressing capes here. There are other types of capes, but these are the most practical ones.
Choosing Your Barber Cape or Salon Cape
Cleaning
A new, quality cutting or chemical cape will likely come with usage instructions.  All capes are different and require different care to maintain long life use. For example, one cape may require a dry cleaner when another may be able to be washed in a washing machine.
How does it fasten?
Of course, don't forget type of fastening your capes uses.  Maybe it uses Velcro.  Can the Velcro be washed or dry-cleaned?  Are there metal or plastic snaps?  If the snaps are metal (and we strongly suggest they are), will the metal snaps be rust proof?  How about ties.  How are the ties made?  Are they double-stitched or reinforced somehow for continual use?
What about neck size?
The sizing consideration is one of the more important ones.  If your customer is choking or itching…, well, enough said on that topic!
Be careful of using Velcro.   Although the neck closure is often quite wide, it isn't great for people with smaller neck dimensions. The Velcro is also not very durable, which might mean that you need to replace it sooner that you'd like.
The adjustable snap closure type of cape fits various neck sizes.  It's usually a round collar allowing for varied sizes of necks from children to adults.
Still not sure what hair salon cape is best for you? Get in touch with us, and we can help you determine which type of hair salon capes you need for your business.